Product listing is an important aspect when you sell via marketplaces such as bol.com or Amazon. The product listing includes the product titles, product descriptions, product images and product reviews. In fact, it consists of everything a consumer can see and read before they make a purchase.

As a seller on marketplaces, you need to pay careful attention to the individual parts of your product listing. A strong product listing results in a higher conversion rate and a stronger position in the marketplace. This also applies to product listings on bol.com. In this article we will take a closer look at placing product titles and product images on bol.com.
Product titles on bol.com
Strong product titles are not only good for the findability of products, but also increase the click through ratio.

Take a look at the product title below as an example. The title of this product is 'FZF30MFE'. This product will not be easily found on bol.com, and will also not have a high click through ratio. A visitor probably has no idea what kind of product this is, as the product title tells little about the product.



If you analyse the product title in the new bol.com 'Search Trends' tool, you will also see that there has been no search volume on the word 'FZF30MFE' on bol.com in the last 4 years.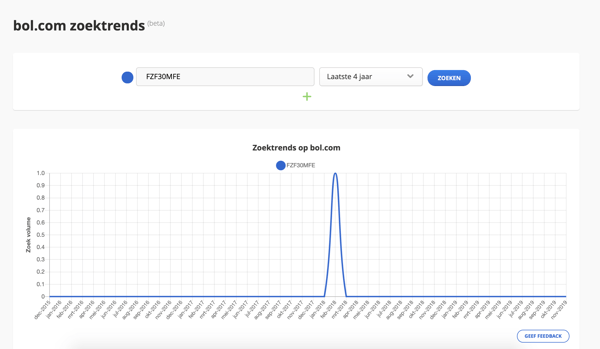 This product title 'FZF30MFE' does not have the right structure and will therefore not perform well on bol.com, although there may be demand for the product.

What is a good product title?
A good product title contains a number of elements. We will give you some examples:

Brand] [Series] [Product name] - [Product type] - [Distinguishing feature, for example color, diameter, maximum weight, number of legs, etcetera].

The product title below is a well constructed product title on bol.com. The brand, the product name, the product type and the product characteristics are reflected in the product title.


When you consult bol.com Search Trends, you may notice that both the word 'air cleaner' and 'fan' are combined with 'Dyson' search traffic.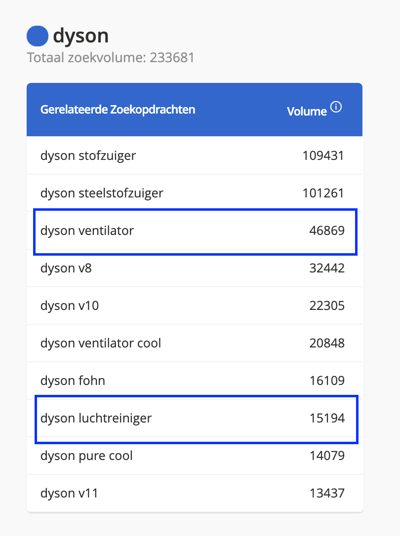 It is also good to know that consumers nowadays more often make online purchases via a mobile device. A mobile device displays the first 35 characters of a product title. It is therefore important to include the most important words at the beginning of a product title.


Moderate product titles on bol.com
Moderate product titles can also be found on bol.com. Below are examples of product titles that are moderately structured.

In this case, the seller mentions all kinds of synonyms of a word in the product title. This is not only confusing for the consumer, but it is also unnecessary.

Bol.com indicates that synonyms are already included in the search algorithm. Instead of naming synonyms, it is therefore advisable to name the most important characteristics of the product.

The product title below is also not a well-constructed product title.

In addition to the fact that the product title is difficult to read, there are mostly words in it that are not advisable to name (and are not related to the product), such as: This week's action!', 'Christmas', 'birthday' and 'festival'.
Book Lamp S' also raises questions. Is this the name of the product or does it mean size S? When the latter is the case, it is better to name the size of the product.


This should nót be mentioned in the product title on marketplaces
Some of the important don'ts in drawing up a product title are:
Indication of prices, (temporary) actions or delivery times
Title in capital letters
Information related to the product
Numbers described in words (e.g. two instead of '2')
Information about yourself (seller)
Special characters, like '!', '?' and '&'.
Complete sentences


Product images on bol.com
Images evoke emotions in people and encourage a visitor to take a certain action: by scrolling or clicking on the product. It is important to pay attention to creating the right product images.

Clear product images are more likely to attract a visitor's attention and also increase the chance of conversion. Placing sufficient images is also important. The more images you place from different angles of the product, the better visitors will get a realistic picture of the product.

Qualitative, clear product images result in fewer disappointments for consumers and thus fewer returns.

Requirements product images on bol.com


Product images placed on bol.com must meet certain requirements. To ensure that the image is of sufficient quality, the image should be at least 30 KB and maximum 25 MB.

Furthermore, it is advisable to place images with a minimum size of 1200 x 1200 pixels and a maximum size of 6,000 x 6,000 pixels. Smaller dimensions do not qualify for the zoom function.

It is also important that the main image, the image that appears first on the search page and product page, meets the following characteristics:
A white background. This allows the characteristics of the product to stand out best and the background is not distracting.
Show the complete product. The customer should be able to immediately see what the product looks like.
Do not use unnecessary shadows or reflections.
When comparing the main images below, the left main image is not a suitable main image. It is not clear to the visitor what the product looks like, what the product is and the image looks unprofessional. On the other hand, the right image does meet the requirements of a suitable main image.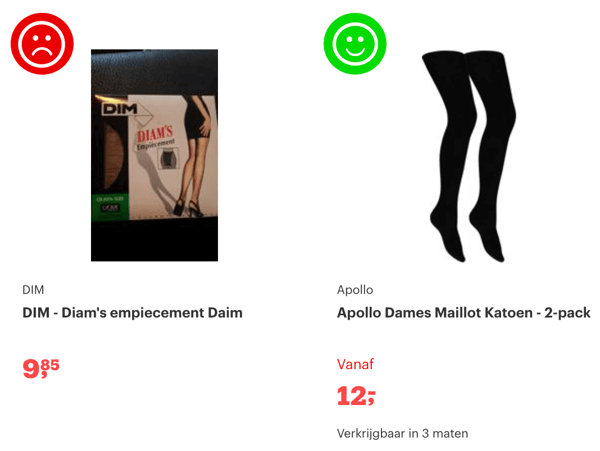 Atmospheric pictures on bol.com
In order to create the ideal customer experience, it is advisable to also show atmospheric images on the product page. Atmospheric images increase the visitor's experience. After all, the visitor cannot touch, feel or smell the product and has to make a decision remotely.

It is advisable to partially answer all kinds of questions a visitor may have about the product in the mood pictures. Questions that visitors may have are for example: ''How big is this product?'', ''What does this product look like in my living room?'' and ''Does this also fit ladies with a size bigger?''.

With a duvet cover, a visitor is curious what this product will look like in the bedroom. To help the visitor with this, it is advisable to show mood pictures like the one below.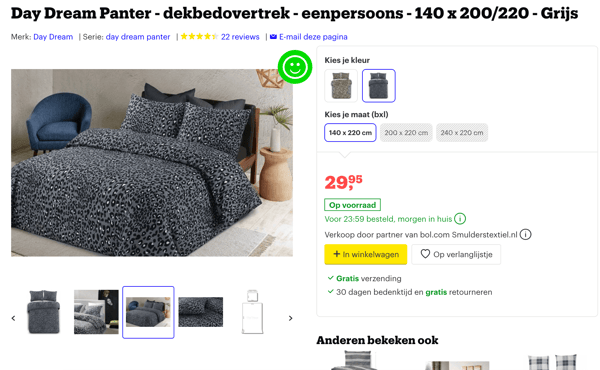 Conclusively, a few points of attention:
It is forbidden to show watermarks, company names, company logos and discount labels on a product image.
Images are subjected to copyright. In order to prevent claims, it is not allowed to use royalty-free images as product images and to infringe on the rights of third parties. Please handle this with care.
Selling on bol.com is booming business
Marketplaces are and will remain booming business in the coming period. More and more sellers find their sales through this channel and see their turnover grow exponentially. Is your organization already selling through marketplaces and would you like to save time and money? We are happy to help your organization to sell efficiently and automatically.

Would you like to know which systems and processes you need to have in order before you can start selling via marketplaces? Download the free whitepaper now!