In order to start selling via marketplaces you need EAN codes. These are unique codes which are linked to the product you are selling. EAN stands for European Article Number. The codes are managed by GS1. In this article we will explain what an EAN code is, why you need it and how you get it.
What is an EAN code?
EAN stands for European Article Number. It is a 13 digit code which is linked to a unique product. In layman terms it is often referred to as a barcode, because these are usually printed onto the packaging of the product with a scannable barcode.
The EAN code is linked to 1 unique product. Imagine selling clothes, then every article in every size and colour has a separate EAN code. Size L and S do not have the same EAN code.
The EAN code is in Europe the standard to which products are recognized. The codes are for instance often used in store at the register for scanning.
Example:
EAN code 8714165557089 is linked to the product 'Sierkussen Alita 45x45 cm rood' of the brand 'Dutch Decor'.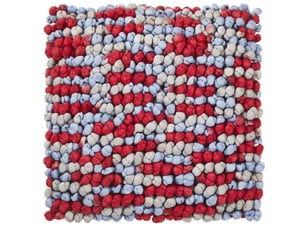 Why do you need an EAN code?
In order to be able to sell via marketplaces that work on the basis of a catalogue, you will need EAN codes. The marketplaces store the product information that is linked to the EAN code. Merchants can in turn link an offer to that product information. Because the EAN code is a fixed code that other merchants can use for the exact same product, it can be offered on the same marketplace by several suppliers.
The example below shows the article 'Sierkussen Alita' on bol.com. The article is being offered by two different merchants, Sierkussen.nl and another salesman. Both merchants have placed their offer linked to the EAN code 8714165557089.At this moment you do not need EAN codes for platforms such as Marktplaats.nl or Beslist.nl, but it is very likely that this will change in the near future. Google Shopping has made the same step forward.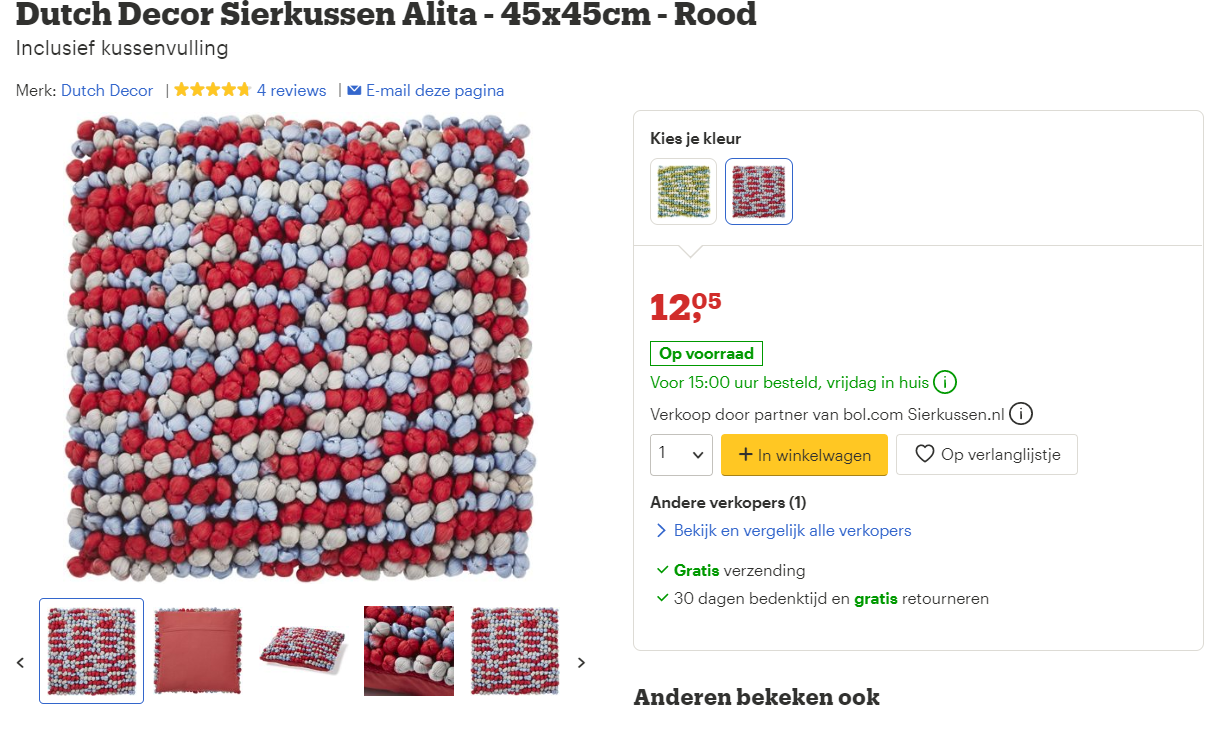 How do you come by EAN codes?
When you do not have your own brand and create your own products, but purchase them from suppliers, you will usually receive the EAN codes of the products you have purchased from the supplier. These EAN codes are, if the supplier upholds the standard, are official EAN codes registered by GS1.
GS1 is the organisation in Europe that controls the EAN codes. Every supplier/brand buys here the EAN codes which are linked to their brand. The aforementioned EAN code of 8714165557089 is then set as a prefix by the supplier. In this case 8714165557089 belongs to Rogon Products B.V. .

If you are setting up your own brand or if you do not receive EAN codes from your supplier, you can buy a batch of EAN codes at GS1. GS1 has several packages for all kinds of EAN code ranges.

View the pricelist of GS1 here.

Be careful: never make up your own EAN codes!
You can not make up EAN codes! If you choose to do so anyway, you are at great risk. In the past we at EffectConnect have worked with a (meanwhile bankrupt) chain in the shoe industry. This company fabricated their own EAN codes and used those to sell via bol.com. This however did not go well. Where people thought they were selling a pair of sneakers for kids, the EAN code they used was actually for a kids bike, thus they sold a kids bike for the price of a pair of sneakers. The consumer thought to have made an excellent deal and the shoe salesman wondered why a bike was purchased...