In this article we will discuss the pros and cons of the 10 major webshop platforms.
Do you wish to start selling online but have no clue which E-commerce platform is tailored to your needs? Or are you not satisfied with your current platform and want to switch? In this article we will discuss what the 10 major E-commerce platforms are and their pros and cons.
Based on the provided information, you will hopefully be able to make a selection.
The 10 major E-commerce platforms (2018)
In the image provided below you can see the 10 major webshop platforms based on the number of users.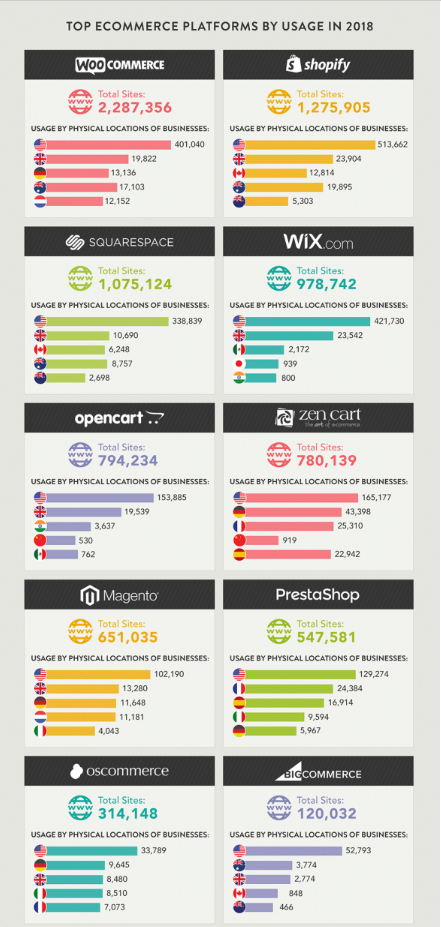 Before you can start selling via marketplaces, it is of great importance that you have set up a scalable application landscape. Which software solutions or apps are necessary to achieve this?


Download the free whitepaper!
'The ideal application landscape for sales via marketplaces '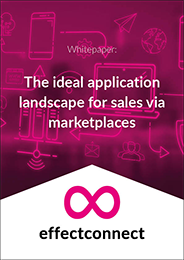 WooCommerce: Pros and cons
Number of active sites: 2.287.356
WooCommerce is in terms of usage by far the most popular E-commerce platform in the world. WooCommerce is a free plugin for Wordpress. This means that you can download a free piece of software and add it to your Wordpress website.
Due to the fact that the WooCommerce plugin is free, it is available to a large number of people worldwide. Besides WooCommerce has a userfriendly installation process in Wordpress and there is an abundance of WooCommerce + Wordpress packages.
WooCommerce is together with Shopify leading in the battle of being world's largest E-commerce platform. If you are already making use of Wordpress, it is a no brainer to opt for WooCommerce due to the simplicity and userfriendly bundles they offer.
Pros
+ It's for free!
+ Countless plugins
+ Scalability
+ Well integrated with Wordpress
+ Excellent presentation of products
+ Variants to products can be easily added
+ Userfriendly
+ Excellent SEO
+ Global community for questions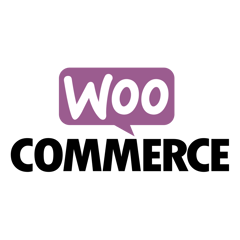 Cons

- No (Dutch) support
- Limited amount of free templates
- Hidden fees
- Not 100% compatible with larger shops who have a lot of specific functions

---
Shopify: Pros and cons
Number of active sites: 1.275.905
Shopify is a popular all-in-one platform from Canada that is being used all over the world. In the Netherlands this platform is relatively new and therefore not as popular as WooCommerce or Magento. However, the number of Dutch Shopify users is growing steadily.
Shopify is described by technical experts as 'smart, sleek and easy to use'. The statements of these experts have contributed to Shopify's popularity and helped make a name for itself globally.
Pros
+ Global user database that provides reviews and community support
+ Built-in speed and security at the hosting server
+ Provides all of the necessary bells and whistles
+ Easy to use and excellent customer service
+ Online marketing possibilities
+ Responsive design (both mobile and tablet) with a lot of themes you can adjust to your needs
+ An abundance of add-ons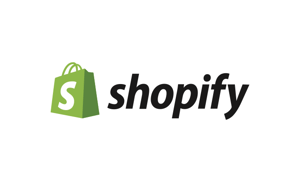 Cons
-Not fully set up for the Dutch market, to which you often have to rely on plugins from other companies. Make sure to check whether Shopify has all of your required integrations.
- Shopify can be expensive
- The installation process can be quite slow
- Due to the possibility for customization, it is vulnerable to hackers
- It is not the best built-in platform
- There is a lot of Shopify lingo being used
- It is difficult to switch to another platform
---
Squarespace Commerce: Pros and cons
Number of active sites: 1.075.124

Squarespace is one of the more popular brands due to its excellent marketing campaigns. Squarespace is known for their easy to use software and hosting solutions. They have also added their own E-commerce option which is Squarespace Commerce.

With Squarespace you can build your own webshop in no-time and put it online. However, you will need to pay extra for all of the additional options, but your webshop will look awesome! Squarespace Commerce is not yet offered in the Netherlands.

Pros

+ The template design of Squarespace
+ Userfriendly
+ Swift setup of your shop
+ Elegant backend design


+ All-in-one platform

+ Good and fast security

+ Simple import and export of data

+ 24/7 customer support

Cons
- Squarespace Commerce is not yet offered in the Netherlands
- Quite pricey
- Absence of advanced marketing tools
- There is no regulated system for apps or expansions
- The functionality of the backend is missing
- Not an E-commerce platform by design
---
Wix Stores: Pros and cons
Number of active sites: 978.742
Wix is originally a free web hosting service. After a while they have added an E-commerce platform: Wix Store. Wix Store can be compared to Squarespace Commerce. With Wix you are able to build a website and place your online store into one platform! Hence why Wix is so easy to use for people who do not possess a lot of technical knowledge. This makes Wix Stores accessible to run your own E-commerce business from home.
Pros
+ Affordable prices for short term
+ Easy configuration
+ Diverse template library
+ Good and fast security
+ Reliable customer support and knowledge base

Cons
- Questionable pricing for long term packages
- The designing and adjusting of tailor made websites can be frustrating
- Limited amount of apps and extensions
- Limited marketing functionalities
- Limited possibility for tailored technical adjustments
- No way of exporting your data


---
OpenCart: Pros and cons
Number of active sites: 794.234
OpenCart was one of the first E-commerce platforms in the world and developed in 1998. It has had a rough start and after some struggles was revived in 2005.
To this day OpenCart is actively participating in the battle for being lead E-commerce platform. Its long history and open-source software are a joy to work with for the users community and developers.
Pros
+ Free!
+ Userfriendly platform for starters and the setup is quite easy
+ Community of developers
+ Lot of tailoring options
+ Wide selection of extensions and modules
+ Dutch Community Forum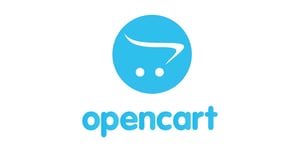 Cons
- Not SEO friendly
- Can function slow in comparison to other larger websites
- Some themes and extensions do not perform well or are not safe to use (check this up front!)
- It is lesser qualified for larger webshops with limited options for growth
- Integration with marketplaces such as bol.com and Amazon can be tricky


---
Zen Cart: Pros and cons
Number of active sites: 780.139
Zen Cart is an open source webshop system. Zen Cart has lost a significant amount of users to other platforms such as Magento. Zen Cart has trouble keeping up with the constant demands of its users and its online profiling.
Pros
+ Free!
+ Safe software
+ Lots of customization options
+ Scalable platform
+ Easy to update
+ Simple Customer Management

Cons

- Average templates
- Difficult to use
- Not a lot of supplementary modules
- Complex upgrades
- No formal support, just a community


---
Magento: Pros and cons
Number of active sites: 651.035
Although Magento is not as popular as WooCommerce or Shopify, it is however regarded as a great alternative for online retailers who like to get it right from the start! Magento is growing steadily in shares as opposed to her competitors. Magento is especially popular with Dutch customers as can be seen from the image provided above.
Magento is an open source platform. This means that it is greatly scalable and new extensions are constantly being produced by developers.
Pros
+ Free!
+ Flexible and multifunctional
+ Suited for larger webshops with complicated functionalities
+ Contains a lot of options which are missing from other platforms
+ Global user community
+ Scalable and mobile friendly
+ Great system for conversion and search engine optimisation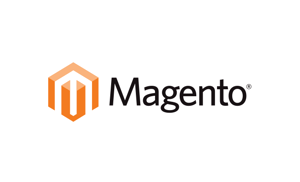 Cons
- Slow loading times
- Requires dedicated hosting
- No (Dutch) support
- Hidden fees
- Setting up a Magento shop is not easy
- Magento is complex. If you do not possess developing knowledge you will have to outsource it which can be quite expensive


---
Prestashop: Pros and cons
Number of active sites: 547.581
Prestashop was introduced in 2007 and has gained a lot of popularity due to her E-commerce options. Prestashop is mainly focused on a reliable online shopping experience and has a great user experience for online entrepreneurs with a low budget.
Prestashop is a good solution for retailers who wish to set up a webshop as quickly as possible and do not possess a lot of budget. If you are looking for a full-fledged webshop with advanced functionalities, Prestashop might not be the best platform for you.
Pros
+ Free!
+ Easy to install
+ Suited for starters and has a userfriendly interface
+ Manual adjustments are possible
+ There are minimal system requirements
+ Global community
Cons
- Hidden fees (plugins and applications)
- Limited scalability
- Design is not very professional
- No official support team


---
osCommerce: Pros and cons
Number of active sites: 314.148
osCommerce is an open source platform with a couple of hundred thousand users in the online community. This platform is a good solution for those looking to set up an online shop without having extensive knowledge on the matter. If you are just starting out with E-commerce or if you have a smaller online shop then osCommerce is a good fit for you.
Pros
+ Free!
+ Stable and secure
+ Easy to use
+ Large community
+ Easy to customize
+ Options for extra plugins and add-ons, without additional costs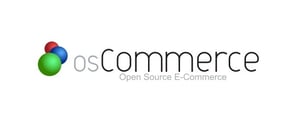 Cons
- Prone to errors
- Requires manual steps because there are no automated installments
- Average lay-out
- Not suited for larger shops with complicated functionalities


---
BigCommerce: Pros and cons
Number of active sites: 120.032
BigCommerce was created to offer an all-inclusive solution to retailers. BigCommerce is a platform of all-inclusive options to which it is competing with other platforms such as Shopify and Volusion, but also other open source platforms such as WooCommerce, Magento etcetera.
Pros
+ No problems with speed and safety
+ Intuitive built-in functions
+ Built-in marketing tools
+ Helpful 24/7 customer support
+ Easy design
+ Easy sales tools

Cons
- Expensive
- Limited supply of add-ons
- Cumbersome product- and inventory management
- Presented with too many options at once
Thought this was an interesting article? Follow us on Facebook or LinkedIn and stay up-to-date on the latest regarding E-commerce and marketplaces!
Download the free whitepaper!
'The ideal application landscape for sales via marketplaces '