What are product bundles?
Very simply, product bundles are virtual products that contain multiple products. These can be several of the same products, or bulk packs (for example, 6x a fabric softener). Or a number of different products that are often purchased together (computer mouse + keyboard + mousepad).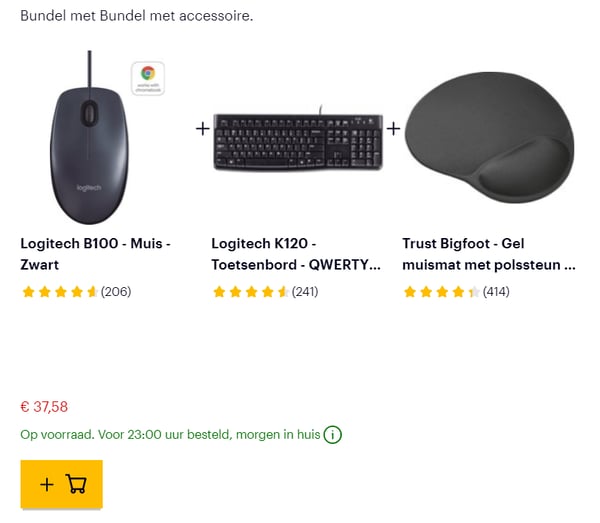 How do I increase my sales on marketplaces by using product bundles?
An additional way to generate more sales with product bundles is to offer volume discounts. If a customer buys multiple pieces of your item, give them a discount. For example: if a customer buys two packs of diapers, then offer 10% off. If a customer buys 5, for example, you give 39% off. You can also apply volume discounts to different products in a bundle. Is the customer buying that computer mouse? Then give him a discount if he also buys a keyboard and a webcam from you.

The beauty of product bundles is: you sell more products per order, and incur fewer costs. This benefits your sales. And the consumer keeps a good feeling about his purchase: he has scored a good deal.

Especially now for the holiday season, it is interesting to take a look at this. What products are often bought in bulk and what product combinations are common?

You can also look for combinations between runners and slow-moving stock. Do certain products now not sell so well on their own? Can they be combined with other products that do run well? Then offer them in a product bundle!
Time to go big!
If you create product bundles within EffectConnect you give the bundle a unique EAN code. Based on that EAN code, your bundle will come online. Within that EAN code, the different products are packed, each with their own original EAN. When an order is placed that includes a product bundle, EffectConnect unpacks that bundle and makes sure that the stock of the individual EAN codes is adjusted.

EffectConnect continuously checks the stock of the products within the bundles. A product bundle is automatically taken offline if the stock of an individual product is sold out. When the stock is replenished, the bundle automatically comes back online. This prevents you from having to sell no on marketplaces, something that would be disastrous for your ranking.

You can also automate volume discounts within EffectConnect. For this you can set price levels: you indicate per line how much discount can be calculated on the number of products purchased.

You always have to think about creating product information related to your bundle. For this you can use product information of the different items in your bundle. Do not forget to add the right images of the individual items! What also works well is an image showing all the products together. That way the buyer can see at a glance what's in the bundle.