Events
How much do you really earn on marketplaces?
Learn how to maximize your profits on marketplaces! Discover key tips on commissions, fulfillment, marketing, returns and shipping.
---
Making a profit on marketplaces: that's what it's all about these days. It's nice if you make a lot of sales, but if your bottom line is low, it becomes a difficult story. The current market situation forces you to look very carefully at where you can make a profit within your marketplace chain.
At the leading e-commerce event Webwinkel Vakdagen, we gave a presentation with Vonroc, a leading manufacturer of power tools and active in 20 marketplaces across Europe. They know like no other what is involved in successfully selling on marketplaces. Below are the key take aways from this presentation.

Commissions
Commission percentages vary by product category. You even have different percentages per product within certain categories. So it's important to compare your pre-calculation (the expected costs) with the post-calculation (via the marketplace invoice specification) to discover any differences. This can make a lot of difference to your bottom line!


Fulfilment
Different sizes of packages have different costs. The marketplace does not always bill the correct size. This can quickly result in a margin difference. So always check carefully what package sizes are billed and whether this matches what you have included in your pre-calculation.

In addition, inventory costs are important to monitor. The cost of stock in the marketplace (for example, via LvB or FBA) can be high if you have slow-moving stock there. So understanding the health of your inventory is a must.

Marketing
Don't just count with ACOS but also with TACOS. This tells you more about your overall advertising costs. Ideally, you should include a cost component for this in the calculation of your selling price to the consumer.


Returns
Returns are sometimes unavoidable, but you want to keep them as low as possible or at least cover the cost of returns somewhere.

By including the return percentages in your calculation for the selling price, you are already pre-sorting for these costs, based on historical data, and avoiding the possibility of running out of money on them.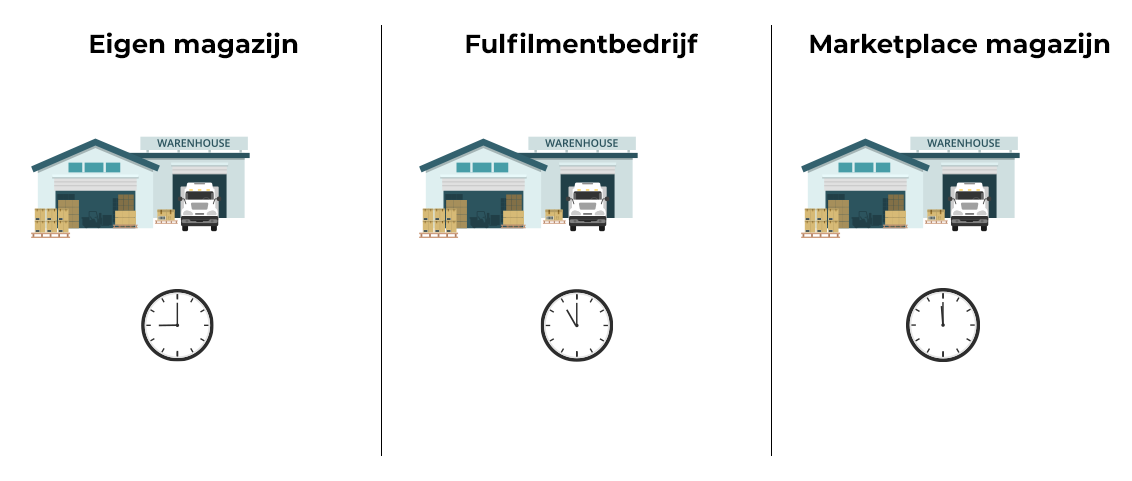 Shipping
Compare shipping costs of fulfillment and/or in-house shipping. You do this by looking at your order distribution on a day, for example. Do most orders come in before your own warehouse's cut-off time? Then ship those yourself! Everything that comes in after this cut-off time, you can have it done through fulfillment (of the marketplace). This will save you a lot of money and allow you to make extra profit!

Does that seem difficult to you? It doesn't have to be! We have built a time-controlled switch into EffectConnect's integration software. This means that you can enter the cut-off times of your warehouse and that of external warehouses and you let the system switch automatically based on these times. This way you keep your delivery promise and get the most out of this cost component. This can quickly generate a lot of extra profit!


A future-proof profit strategy
Consists of several elements. Sometimes the above factors are included in determining the sales price, but often averages are used. You can fall flat on that too!!
Shipping costs, inventory costs, advertising costs and commission rates are not always the same for each product. If you assume averages for these components, you will be overpriced in some products and underpriced in others.
This is well solved by, when using integration software, working with custom attributes. This means that for these types of cost components you can specify that these are variable values, which can therefore be different for each product.
With EffectConnect, you can build these values into one price line using the Repricer. You let the software calculate for you. This ensures that for each product the specific costs are included in your price determination, without having to make endless price rules.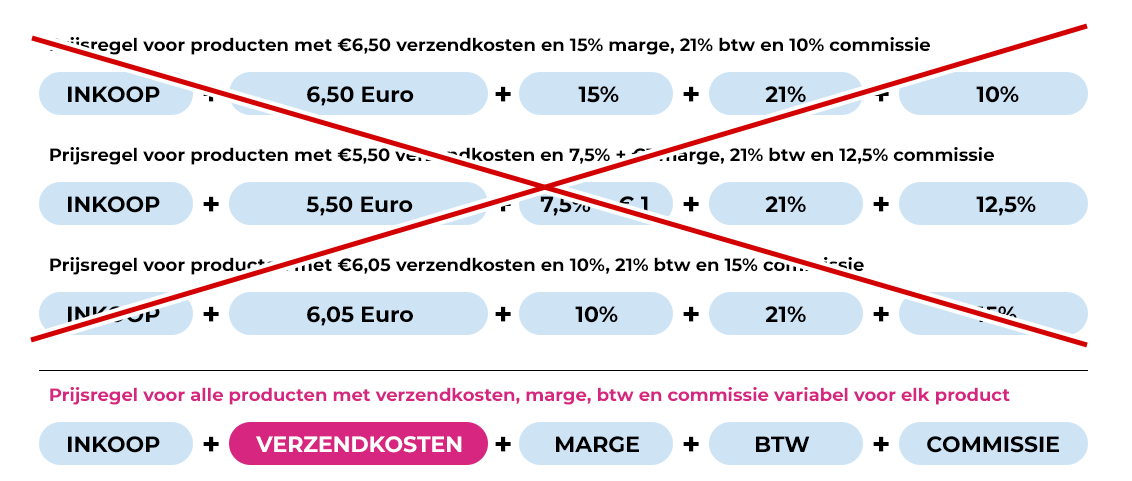 Want to know more?
Wondering how this would work for your organization? Leave your details here. Together we will look at your current situation and discuss how you could use EffectConnect to achieve your marketplace goals.

Would you like to see the software? Request a demo here!